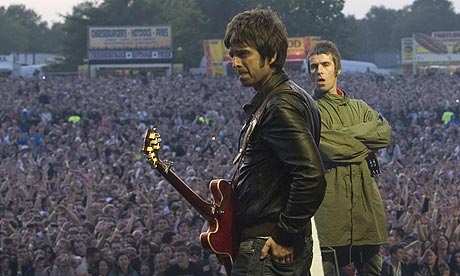 Yesterday's Guardian (8th Jan 2010) featured an article about the forthcoming movie 'Upside Down' featuring Time Abbott and and film director Danny O'Connor.
Below is the text of the article:
When an unsigned Noel Gallagher took the train from Manchester to meet the bosses of Creation records in 1993, he had little idea what to expect.
In a room above a sweatshop in the back streets of east London, surrounded by self-confessed "misfits, drug addicts and sociopaths", the Oasis songwriter found his spiritual home.
"He came to the Creation office and saw the words Northern Ignorance scrawled in magic marker across the roof of the reception," said Tim Abbott, the label's former managing director. "I'd done it the week before, when I was off my head on ecstasy, walking on the tables and drinking champagne. Noel saw it and went: 'Fucking 'ell, I'm having that. I like it here.'"
The full extent of the debauchery, precarious nature and genius of the independent label is to be laid bare in the most revealing rock'n'roll film since 24 Hour Party People, the story of the "Madchester" scene. Upside Down, due out in spring, reveals the label's unusual method of making sure new bands came on board, according to Abbot. "We often used to drink and drug the bands into submission," he said.
After the initial bond formed, Abbott said, Gallagher was frog-marched to the pub where, unsurprisingly, all involved got "stuck into a session".
A decade after Creation closed, and 25 years since the release of its first single, Upside Down charts the heady 15-year existence of the label that launched Primal Scream, Ride and My Bloody Valentine, as well as Oasis.
The label veered from one financial precipice to another, he said. Even after Primal Scream won the Mercury music prize in 1992, the resulting visibility did not translate into financial viability.
"We were always skint. It was like spinning plates, we were always trying to dodge the bailiffs," he said. "It was my job to go out and see them, probably because I was the smallest. Dick [co-founder Dick Green] would see to the manufacturers who we couldn't pay and Alan [co-founder Alan McGee] would just try to blag it. It couldn't go on like that."
Upside Down's director, Danny O'Connor, who admitted to going through "near bankruptcy and dementia and all the other things that come with Creation" during the making of the film, said he was drawn to telling the story of the label that had provided the soundtrack to his life.
"No one does excess like Creation, no one does great records like Creation," he said. "Creation was an indie, but it didn't wear a cardigan, it didn't apologise. There was a real power in its punch. If you think that rock'n'roll is all about swagger — this is your film."
And few do swagger like McGee. In a trailer for the film he admits: "I was absolutely delusional. I actually thought I was up there with Beethoven and Shakespeare, creating metaphysical history by running Creation."
The company behaved like the "ultimate dysfunctional family" but still managed to make great and intelligent records, said O'Connor.
Abbot agreed: "We were dysfunctional people working with dysfunctional bands but somehow we still managed to function — we got results. There were a whole cast of characters at Creation and the sum was greater than its parts."
For Abbot, when Sony bought 49% of the label in 1992, it spelled the end of its glory days. "When McGee sold creation to Sony, it was a curse," he said. "It took the pressure off financially but it changed everything. Sony brought in accountants and a major label culture. The offices moved from Hackney to Primrose Hill and it got stupid.Knebworth [Oasis's 2005 Knebworth concert] was a gig too far. It signed off the old culture."
He holds few regrets about the eventual closure of the label in 1999. "When the label folded it was sad, but it had been consumed by a monster. It stopped being a vehicle for music and started being a vehicle for egos. Alan and Dick sold the soul of Creation to the devil, and the devil wanted it back with interest."
He added: "I have no regrets. In its heyday Creation produced fantastic music and art, and I was lucky enough to be there. It's like asking Ronaldo if he regrets playing for United. If you get to play for the best team in the world, you can't ask for anything else."

Article can be found by clicking here.
Comments